Kitsune Miku Says: Do Not Listen To This Crunchyroll Episode!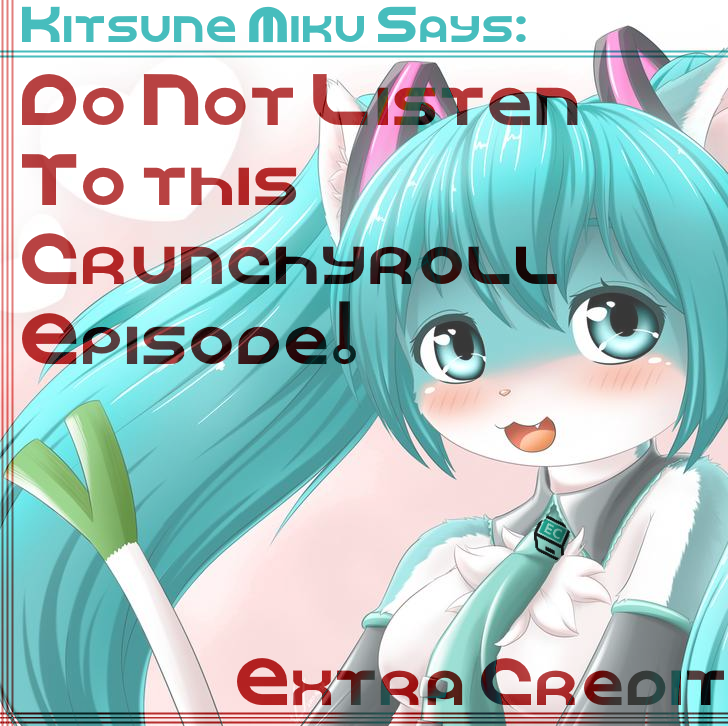 Episode 74 — Released Sep 6 2019
CONTENT WARNING! These anime nerds are racist, sexist, homophobic, and transphobic. Proceed with caution!
Good lord, why did we do this?!
So The F Plus put on a little 24-hour stream called Garbage Day back in May and they had a donation battle hour which contained a doc so horrid, the donors quickly amassed enough money to demand that the readers switch to the other document. As neither had the full hour, there was plenty left to spare! And we already did an episode on the "winning" doc so you know what that means…
The Crunchyroll Forums are a place where people who watch anime online go to spew rancid political opinions and share their terrible relationship stories/demands. There's really not much to say beyond that! We do pad out the episode as much as we can with stories about anime friends we had in high school, so hopefully this is still entertaining.
This week, Extra Credit fucking hates the Lesbiathon.
With THE LESBIATHAN, Dijon Du Jour, Beelzeboob, Chai Tea Latte, Shell Game, and featuring Frank West
Edited by Shell Game
Content provided by The Heavenator and THE LESBIATHAN
Cover art by Shell Game and symbianl

Subject featured
https://www.crunchyroll.com/forums
Music used
Evangelion - A Cruel Angel's Thesis Bike Horn Cover by aberrantkinosis
ILLUMINATI by Malice Mizer