I'm Barking Mad! …and That's Snow Joke!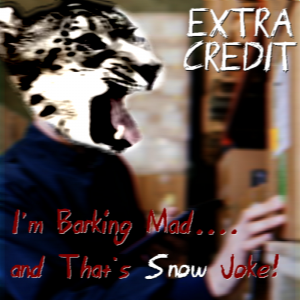 August 10, 2018
4 Comments
Humans are complex animals. We think, we feel, we invent, we create, we see ourselves in our reflections, in each other, in snow leopards… Hm? 'Snow leopards" seems like an unusual thing to lump into that list, you say? Well clearly you are unfamiliar with the concept of the therian. Actually, considering you're listening to […]
#043
February 14, 2017
0 Comments
Feeling lonely? Unloved? Feeling lost and alone? That sucks. Luckily, the people over at OkCupid have just the solution for you. Thanks to their magical nerdy algorithms, they'd be happy to set you up with a huge list of people on their database. All they need is for you to fill out a profile, answer […]
#016
Christmas in July SPECTACULAR!
August 2, 2016
4 Comments
This is like an episode of The F Plus, but with fans! How this all started: STOG asked if people were interested in participating in a project. The project was to replace audio for one of the grossest F Plus episodes of all time (#221: Specialty Wankers). The plan didn't go through (Djeser's masterful editing […]
#001